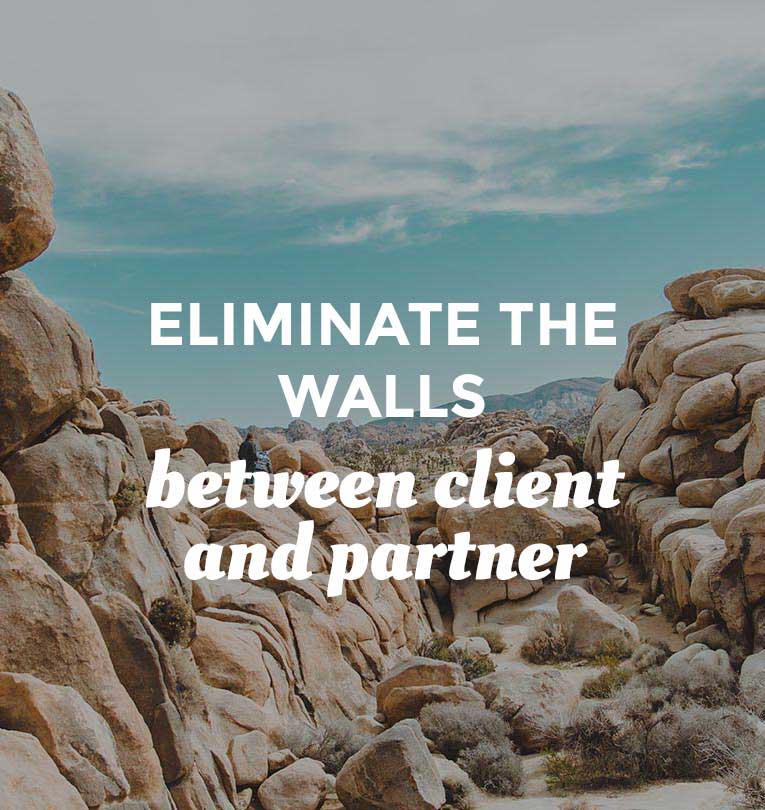 Let's roll.

When a client and their partner enter a new relationship, both parties enter with excitement and hopes of a bright, mutually beneficial relationship. But just like a marriage, these relationships are hard. And often harder than they should be. But the truth is with the right mindset and a few behavioral changes, you can recapture the excitement of when you started working together and create shared successes.
Our client / partner relationship experience is built to ensure your partnerships are both fruitful and enjoyable. Our experience uses the environment to get everyone comfortable with identifying key challenges and workshop solutions to those challenges. Our excursions will allow the larger group to bond, to trust each other and to enjoy each other.
At the end of our experience, we will have successfully cleared the grey skies out of your relationship and create a path for sunny optimism and a mutually beneficial relationship.

EXPERIENCES BUILT TO BREAK DOWN THE RELATIONSHIP BARRIERS
and set your partnership up for success


EXCURSIONS DESIGNED TO ERASE THE LINE BETWEEN CLIENT AND PARTNER
to become one united team


HERE ARE TWO EXAMPLES OF EXCURSIONS DESIGNED TO
inspire with purpose.


Even the best relationships can sometimes be rocky and all relationships need attention.
Work off some emotional energy on the climb, before enjoying the amazing views that more than pay back for the effort you have put in.

Before/After rock climbing explore the 10 biggest relationship derailers and take an honest look at how many of them you're guilty of at least sometimes.

Learn how to notice and diffuse relationships derailers in others, to help keep your relationships in great shape.



Tell the truth, you think this one's going to be hands on and experiential. Wrong! This tour is all about listening. Listening is the #1 requirement for good relationships and great communication, but most of us don't know how to listen well, and even if we do, we don't do it often enough.
Notice how closely you listen to information about cannabis farming and distribution as it's an interesting and hot sector.

Find out how often you listen that closely in general life.

Learn about the 3 levels of listening and have plenty of opportunity to test your new skills.


Executive Coaching Partners

Roadies has partnered with some of the top coaches and facilitators in the world - Mumford Sole Executive Coaching and Big Blue Stuff. Their C-suite experience across Fortune 500 companies and start-ups alike make them highly qualified, but it's their specific out-of-the-box approaches that make them perfect partners for Roadies. We will work with you to determine the specific moderator that's right for your culture and objectives.

Mumford Sole believes it's all about human potential. To live our lives on purpose and to find success wherever we focus. And to believe anything is possible. With an A-list team of executive coaches, they will take you from your comfort zone to your uncomfortable zone and your successful zone.  See what lies beyond.



Big Blue Stuff believes if you spend time in a space and place that respects the power and grace of the natural environment, it engenders thinking of a different quality - one they call long sighted thinking. They link three core essentials of doing better business together: performance, enjoyment and learning.


DISCOVER WHAT IT MEANS
TO GO ON A